Title: Betrayal (Haunting Emma Book #2)
Author: Lee Nichols
Paperback, 304 pages
Published March 1st 2011 (first published February 21st 2011)
Source: ARC
**WARNING IF YOU HAVEN'T READ BOOK #1, STOP HERE**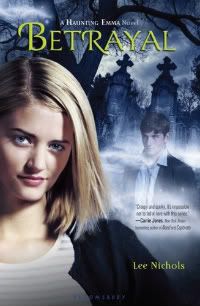 Plot:

Emma Vaile is the most powerful ghostkeeper in centuries. Which is great when she's battling the wraith-master Neos, but terrible when she's flirting with fellow ghostkeeper (and soul mate) Bennett. When ghostkeepers fall in love, the weaker one loses all power, and that's not something Bennett can handle. Heartbroken and alone, Emma tries to lose herself in school with fellow ghostkeeper, Natalie. When a new team of ghostkeepers arrive—one a snarky teen


boy, the other a British scholar—Emma finds solace in training for the battle against Neos. But as the team grows stronger, they are threatened by an unknown force. One they thought was good.

As chilling and page-turning as Deception, this sequel will grab readers and hold them to the last page. No one is safe from suspicion as Emma closes in on the traitor.
My Thoughts:
I love the introduction of new characters into the story line. Emma's new friendships enrich what we started with in Deception and pushes her character to different levels. As in Deception, the characters are my favorite part of Betrayal as well.
Poor Cody. His story just makes me so sad. Even though he doesn't seem to be too pissed at Emma for his death and all, because he sticks around and helps her out a little in this one. I', really glad he was in the second book, because I just fell in love with his All-American boyness. He was one of my favorites in the last book.
Bennett is still around in book two, but it's almost like he pulls an Edward Cullin in New Moon for a bit. The longing Emma still has for him pushes the story along in this book.
Read this one if you liked Deception!