Title: The Vespertine
(The Vespertine #1)
Author:
Saundra Mitchell
Published March 7th 2011 by Harcourt Children's Books
more details...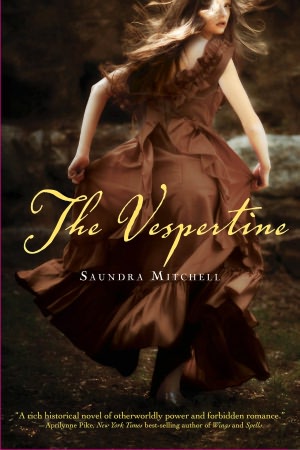 Plot:
It's the summer of 1889, and Amelia van den Broek is new to Baltimore and eager to take in all the pleasures the city has to offer. But her gaiety is interrupted by disturbing, dreamlike visions she has only at sunset—visions that offer glimpses of the future. Soon, friends and strangers alike call on Amelia to hear her prophecies. However, a forbidden romance with Nathaniel, an artist, threatens the new life Amelia is building in Baltimore. This enigmatic young man is keeping secrets of his own—still, Amelia finds herself irrepressibly drawn to him. When one of her darkest visions comes to pass, Amelia's world is thrown into chaos. And those around her begin to wonder if she's not the seer of dark portents, but the cause.
My Thoughts:
I have to admit, I am not a historical fiction lover. The genre just isn't usually for me. Frankly the line heaving bosom makes me giggle every time. So when I started The Vespertine I had my doubts that I would love it. But after the first ten pages into this novel I found myself pleasantly surprised at how hooking this novel was. Sure it's historical, but the paranormal element and forbidden love plot lines were strong enough to keep me engaged in the story til the end.
Amelia's relationship with the artist, Nathanial was so swoon worthy. He would drop these lines that would cause my pulse to race and, like Amelia, draw me in further to him. The only thing I thought was the relationship felt a little instantaneous, but that was easily forgotten because of the likable characters.
The visions in this story were great. I loved getting glimpses into Amelia's future. The paranormal element was tightly written and had some twists at the end that simply wowed me. I really liked this one.
I recommend this novel to anyone who loves historical romances with a heavy paranormal twist.