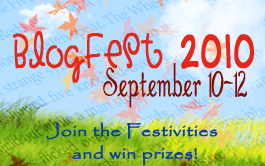 Now on to my giveaways! There will be two winners here! One winner will receive Dead and Gone (Autographed by Charlaine Harris) and the second winner will receive one of my top YA book picks so far this year, Hex Hall. Just follow my blog and leave a comment with your email so I can contact you if you win (US ONLY--Sorry) and that's it. Number randomizer will choose the two lucky winners after the close of blogfest. Since your here, go head and sign up for the other giveaways I have going on as well!! Good Luck!!!
Just Follow my blog, leave a comment with your e-mail address, and you are entered (US ONLY, please)!!
Don't forget about the massive BlogFest 2010 grand giveaway! Head on over to
http://ajourneyofbooks.halfzero.net/
and click on the Tracking Site link to head to our own exclusive tracking site. Once there you can register with a valid email address (to be used solely for the purpose of contacting the winner). This site will allow you to track your progress through BlogFest 2010! You can log on from anywhere at any time and continue where you left off. The best part is that every blog that you visit and mark off through this tracking site will give you one entry into the massive giveaway! We have a great collection of books, goodies and other swag that is looking for a new home!
Check Out the Next Blog on the Blogfest List
Talking with Tundra
for another awesome giveaway and use this link to find and track ALL the giveaways
http://ajourneyofbooks.com/blogfest
!